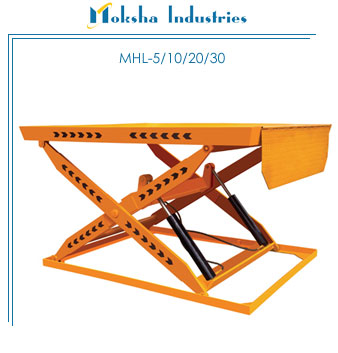 Moksha Lift tables are rugged in design and superior in construction, the lift tables are ideal for loading and unloading applications, the lift tables saves labour fatigue, eliminates injury, protects products and increases production levels.

MHL series lift tables are innovative material handling solutions for loading and unloading operations where differential level exists between loading area and transport vehicle.

Rugged construction bearing, bushes at pivot points hand rails and tailor made versions to suit your particulars needsThe high quality construction features are found in all our designed lift tables.


Standard Features
Capacity 500-3000 Kg

Effortless operation
Robust stability
Firm anchoring
Compact design

All these lift tables are available with a wide range of AC power packs with different lifting speeds varying from 1m/min-4m/min.
If our standard model does not suit your specification, we will design and engineer one that meets your requirement with our CAD system.

DIMENSIONS (in mm) FRONT SIZE

STANDARD WIDTH 1500 / 1800 / 2100 / 2400

TABLE LENGTH

LOWERED HEIGHT

CLEAR LIFT

RAISED HEIGHT

1200

350

500

850

1500

350

800

1150

1800

350

950

1300

2000

350

1050

1400

2200

350

1200

1550

2400

350

1300

1650

2600

350

1450

1800

2800

350

1550

1900

3000

350

1700

2050

3400

350

1900

2250

3600

350

2000

2350
Hydraulic Lifting Machines: