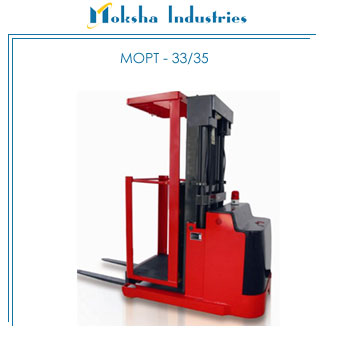 The product has passed the as per international standards and the assessment of new product of the provincial level (a leading product in india) and is mainly applied in warehouse, workshop, elevator portal, supermarket, subway station, and other narrow spaces. It can be operated by one person.


The product is controlled based on the imported intelligent technology.
It is powered by DC, can be controlled by manually. It can move automatically and the moving speed is adjustable.
It can climb a gradient very well.
The recharge will restrict the rising of the platform.
The driving motor has the automatic braking function.
The emergent drop will be locked.

Excellent after sale service and parts are available over the shelf.

Specifications :
| | | | |
| --- | --- | --- | --- |
| MODEL NO. |   | MOPT 33 | MOPT 35 |
| Capacity | kg. | 300 | 300 |
| Lifting Height | mm | 3300 | 3500 |
| Max Machine Height | mm | 4450 | 5200 |
| Min. Platform Height | mm | 42 | 42 |
| Ground Clearance | mm | 42 | 42 |
| Platform Size | mm | 600x640 | 600x640 |
| Drive Speed (Platform Stowed) | km/hr. | 4 | 4 |
| Drive Speed (Platfrom Elevated) | km/hr. | 1.6 | 1.6 |
| Min. Turning Radius | mm | 1500 | 1500 |
| Max. Travel Grade | % | 15-20 | 15-20 |
| Driving Wheel Size | mm | 230x250x8 | 230x250x80 |
| Driving Motor | V/kw | 2x24/0.4-0.5 | 2x24/0.4-0.5 |
| Lifting Motor | V/kw | 24/2 | 24/2 |
| Aneroid Battery | V/ah | 2x12/100 | 2x12/100 |
| Charger | V/ah | 24/20 | 24/20 |
| Overall Length | mm | 1550 | 1550 |
| Overall Width | mm | 700 | 700 |
| Overall Height | mm | 1950 | 1950 |
| Overall Net Weight | kg. | 574 | 574 |
Material Handing Equipments: